Top Five Lowest-Cost Private Jets
If you regularly fly by private jet charter ownership may have crossed your mind. If this is you, you may be interested to discover that there are actually some reasonably priced private planes out there. Owning a private jet may sound like the domain of the extremely wealthy, but the cost of some of the cheapest private planes may just surprise you.
Whether you're shopping – or window shopping – for a very light, light, mid-size or heavy jet, the most affordable private jets can be a fraction of the price of the most expensive.
Of course, the price of a pre-owned private jet will depend on many factors, such as the year it was produced, the miles it has flown, the condition it is in, and more. It's important to keep this in mind when looking to buy a more financially economical private jet. We've listed some of the cheapest private jets in each category to give you an idea of what's available, with the costs of both pre-owned and new versions, where available.
Very light jet: Cirrus Vision Jet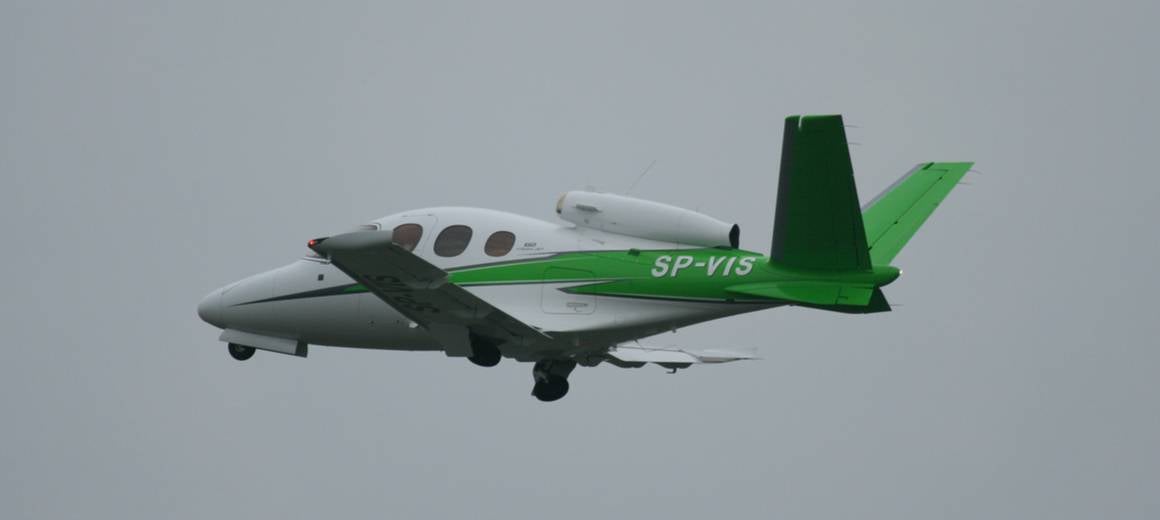 One of the cheapest small private jets on the market is the Cirrus Vision Jet, at approximately £1.58 million for earlier models and £2.78 million for the 2020 model. It's the world's first single-engine private jet and is powered by a Williams International FJ33-5A turbofan engine, which produces 1,800lbs of thrust. The aircraft took 10 years to design and build and features a unique V-tail instead of a traditional rudder. The Vision Jet can cruise at 345 mph at a maximum altitude of 28,000 feet and with a range of 1,150 miles. Although designed to be flown by the owner, a pilot can be hired instead.
Passengers can enjoy a spacious cabin that is 1.2m tall and 1.5m wide, with large windows and seating for up to six passengers depending on the configuration. Modern amenities include an in-flight entertainment system, mood lighting, and USB charging points. There's a panoramic windshield in the cockpit as well as a cutting-edge Garmin Perspective Touch avionics suite and sidestick technology. The Vision Jet even boasts a flight envelope and parachute system for emergencies.
Light jet: Cessna Citation CJ3+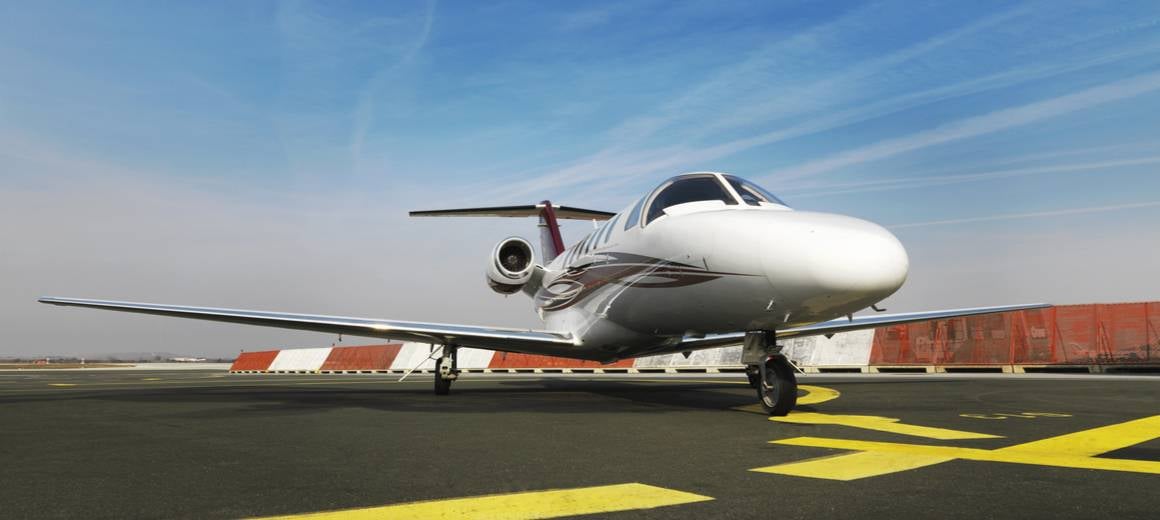 If you're after a cheap private jet and the Vision Jet sounds a little tight on space, you could always buy a lightly used Cessna Citation CJ3+ for £6.44 million (the 2014 model) or a brand new one for £8.29 million (the 2022 model). Launched in 2014, it's a new and improved version of the CJ3 – named 'Best of the Best' in the light jet category by the Robb Report in 2011 – and has a more comfortable cabin and an upgraded Garmin 3000 avionics system. The aircraft is certified for single-pilot operation and has an impressive wingspan of more than 16 metres, which is designed for extra lift and less drag.
The cabin can accommodate up to six passengers and is 1.2 metres tall, 1.2 metres wide, and 4.8 metres long. It features 14 large windows, swing-out seats, LED lighting, Wi-Fi, and a standard lavatory with six design themes to choose from. In addition, the jet has a maximum range of 2,040 nautical miles, a luggage capacity of 450kg, and is reportedly cheaper to run than its closest competitors, such as the Phenom 300.
Of course, the CJ3+ isn't the only option when it comes to affordable light jets in the Citation CJ line. If you're after something pre-owned, then it's worth looking at the Cessna Citation CJ3, which goes for an average of £4.35 million. The CJ2 comes in at around £2.76 million and the CJ1 costs around £1.05 million pre-owned.
Midsize jet: Cessna Citation XLS+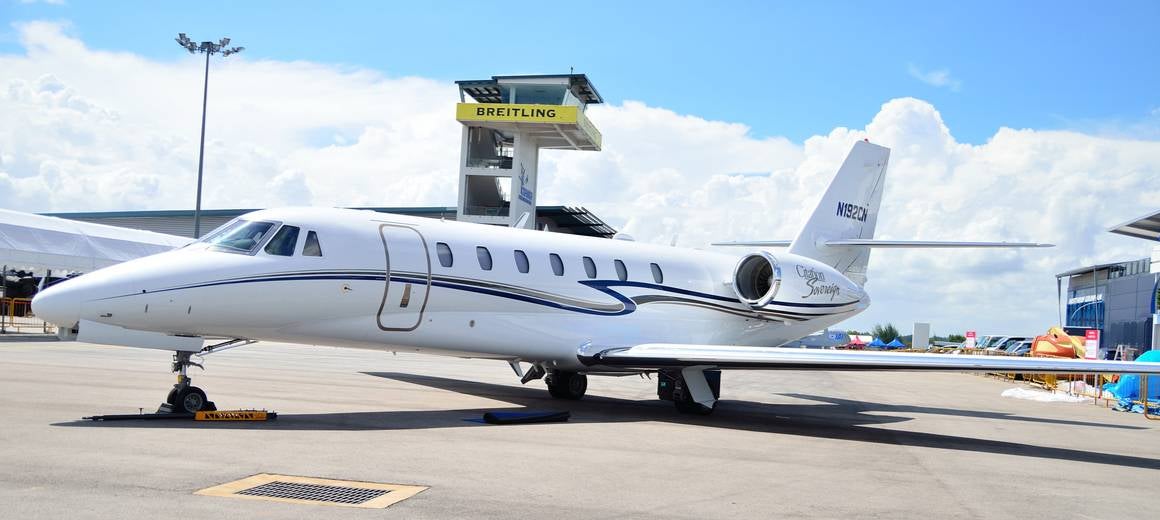 The average asking price of a pre-owned XLS is £7.1 million, with lightly used models going for about £7.6 million and £11.66 million for a 2021 model. Launched in 1998, the Cessna Citation XLS+ is a very versatile aircraft. It delivers high performance on both short- and long-haul flights. The Citation XLS+ has a maximum cruise speed of 507 mph and a transcontinental long range of 2,100 nautical miles. The jet can also take off from shorter runways and has a state-of-the-art Rockwell Collins Pro Line 21 avionics system.
The cabin comes in six colour schemes and, at 1.7 metres tall, 1.7 metres wide, and 5.6 metres long, is one of the largest in its class. Passengers can relax with fully reclining leather seats, foldaway tables, an entertainment system, and Wi-Fi. You can even configure the cabin to feature a double club or include a side-facing divan. There's typically seating for up to eight passengers and a galley for food preparation as well as space for around 17 pieces of luggage.
The Cessna Citation XLS is a cheaper choice than the XLS+ if you're after something similar but a bit more affordable. You can get your hands on a XLS pre-owned 2004 model for around £4.88 million, and £5.67 million for a 2009 model
Super-midsize jet: Falcon 50EX
The price of private jets continues to increase with size, but given that the Falcon 50EX stopped being produced in 2007, it's a cost-effective plane for its size. It's got an average asking price of around £2.7 million. The Falcon 50 by Dassault Aviation was the first private jet with intercontinental range and was a massively popular private aircraft.
Dassault Aviation recreated the Falcon 50 17 years after it was released, keeping its most popular features and upgrading the rest with cutting-edge technology. The result? The Falcon 50EX, a private plane that looks and feels like the Falcon 50 but with technology that supersedes that of its predecessor. It cruises faster at higher altitudes, burns less fuel, flies further, and outperforms the Falcon 50 across the board.
The cabin itself has probably been altered the least. It is still 1.7 metres high and 1.8 metres wide and can typically accommodate eight or nine passengers depending on the configuration. This sturdy aircraft is 18.52 metres long, 6.98 metres wide and has a wingspan of 18.86 metres. The cabin is split into two zones and has its own temperature control, fold-out work desks, comfortable seats, and plenty of cupboard space for hand luggage.
Engine specifications include three Honeywell TFE731-40 turbofan engines, the second generation of the TFE731 series. They provide more thrust at cruise speeds and burn less fuel than the Falcon 50's TFE731-3-1C engines.
Heavy jet: Embraer Legacy 650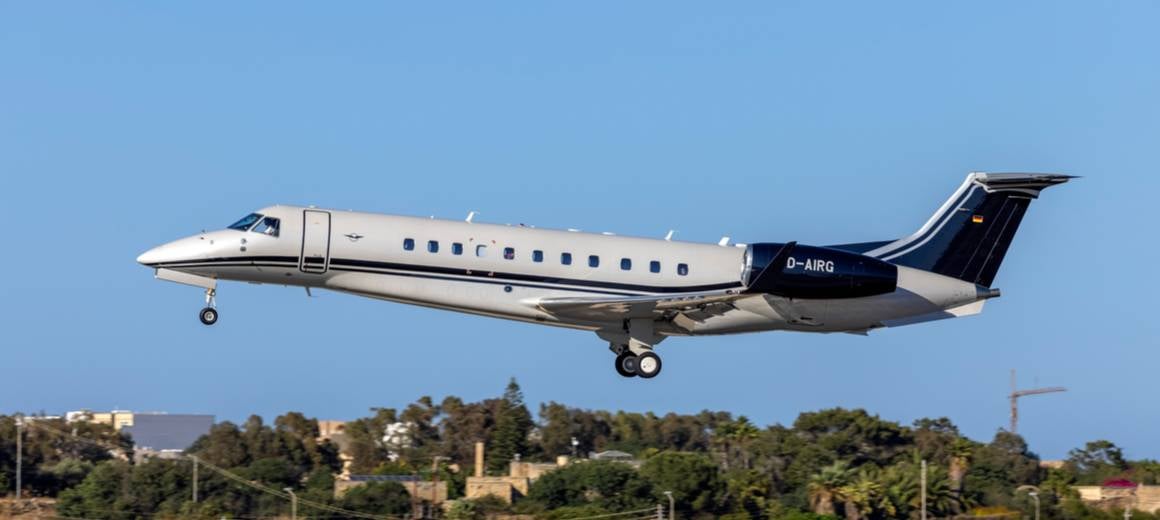 While the cost of large jets is usually extremely expensive, one of the cheapest private jets in this category may surprise you. The price of an Embraer Legacy 650 will depend on the year it was manufactured. For example, a pre-owned aircraft from 2015 will cost an average of £12.8 million, while the 2019 model will be closer to £16 million.
With substantial baggage capacity, long range, and space for up to 13 passengers, the Embraer Legacy 650 is a great choice for those looking for a lot of space or who will be travelling with large groups. Ten passenger seats and a three-seat divan are spread across three cabin zones. Seats are fully reclinable and create four single beds and one double bed. There's a fully equipped galley and a large lavatory, which makes this one of the most comfortable private jet interiors in this range.
It is powered by two Rolls-Royce AE3007A2 turbofan engines, generating up to 9,020 lbs each of thrust, and the aircraft is equipped with a Honeywell Primus avionics suite.
The Legacy 650 stopped being produced in 2017 to make way for the upgraded Legacy 650E, which is actually still one of the more affordable jets of this size and a good choice for those looking for a more technologically advanced and streamlined version of the Legacy 650.
The luxurious Embraer Legacy 650E comes in at £18.8 million for a pre-used model, while a new model will set you back £24.05 million, a relative bargain when compared to the average price of a new, similarly sized, £44.75 million Gulfstream G550. The 'E' stands for 'Evolution', and the model certainly offers that, with two Rolls-Royce AE 3007A2 engines and a Honeywell Primus Elite avionics system. As an aviation industry first, the plane also comes with a 10-year or 10,000-hour warranty.
The Legacy 650E typically has seating for 12-13 passengers in three separate cabin zones, allowing some to work while others sleep in leather seats. There's broadband and worldwide phone service, as well as multiple configurations that can include a conference table for business meetings. With a cabin height of 1.8 metres, a width of 1.85 metres, and a length of just over 14 metres, there's no shortage of space in this private jet. The 3,900-nautical-mile range allows for longer flight hours, so travellers can, for example, fly non-stop from Munich to New York.
Best of the rest
Looking for more low-cost private jets? Here are some other options:
Cessna Citation Mustang. This single-pilot aircraft is one of the more affordable in the very light jet range. Powered by a pair of rear-mounted Pratt & Whitney Canada PW615F turbofan engines, and a range of up to 1,343 miles, it's a good choice for shorter trips with few passengers. It has the capacity for up to four passengers and could cost between £2 million for a pre-owned 2013 model and £2.58 for a pre-owned 2017 model.
Embraer Phenom 300. This light jet is worth approximately £8.04 million compared to the £6.66 million Cessna Citation CJ3+. The Phenom 300 has a range of up to 2,000 nautical miles and can accommodate up to eight passengers.
Bombardier Learjet 45. This midsize private jet costs between £2.70 and £3.33 million depending on the production year between 2003 and 2007. The upgraded version, the Learjet 45XR, costs around £10.46 million brand new (just slightly more than the Cessna Citation XLS+) with a lower price tag for second-hand versions. For example, a 2012 model will cost just over £5 million. The Bombardier Learjet 45XR has a range of around 2,000 nautical miles and can seat eight passengers.
Beyond the price tag
Although these private jets are more cost-effective than top-of-the-range models, it's important to bear in mind that the prices quoted here don't include additional running costs such as inspections, insurance, hangar space, pilot expenses, and interior customisations. You should also take into consideration fuel costs, which vary depending on your jet's flight time and aircraft type.
Charter a private jet with Air Charter Service (ACS)
Of course, you can avoid most of these costs by opting for a private jet charter or private jet rental instead.
Contact us at your local ACS office for a personalised quote on private jet charter costs for the aircraft of your choice. We also offer empty-leg flights at significant savings when a plane is flying empty back to base following a one-way booking. Learn more on our empty-leg flights page.